The short story behind the story…
I really wanted to work again with my EXTRAORDINARILY GIFTED, BRILLIANT and WONDERFUL friend, the PHENOMENAL artist,
Alexandra Boiger!!!
(Did I mention how incredibly talented she is???)
The LOOOOOOONG story behind the story…
The reason I wrote Take Your Mama to Work Today is simple. I wanted to work with Alexandra Boiger again. Although we hadn't known each other before Simon & Schuster hired her to illustrate While Mama Had a Quick Little Chat, we became great friends through the process of making the book, and I become a huge fan of her incredible talent. Alexandra did such a beautiful job illustrating While Mama… (her first of now many GORGEOUS books), and brought such visual personality to the characters, that I absolutely knew I wanted to make another book with her.
Originally, Take Your Mama to Work Today was written as a sequel to While Mama Had A Quick Little Chat, and was about Rose

going to work at Mama's

office. But over the course of time, the story changed, and though it is still about a little girl going to the office with her mother

, the leading ladies are now Violet

and her Mama.
At some point in the writing process, Violet decided to "HELP ME OUT" by becoming THE VOICE and THE BOSS of my her book. She decided that not only was she the boss of me, but she was also the boss of all the kids who read the book, and even the boss of the boss in the book. What a bossy kid! Suddenly my picture book became her manual to teach kids all about adult work. She wanted HER book to show every kid, parent and boss, just how REALLY HELPFUL kids could be at the office!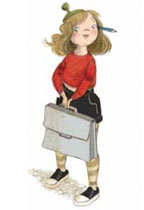 Of course, I already knew how HELPFUL kids could be with adult work, and in addition to Violet,  I had lots of great advice for this book from the fabulous kids in Ms. Owen's class of 2010, one very funny seven-year-old named Julia, and my wonderful daughter, Joan, who came up with the awesome title!